A FREE Tool for Content Creators
In the rapidly advancing world of artificial intelligence (AI), content creators are continually seeking innovative ways to ensure their work bypasses AI detectors. Enter Pass AI Detection, a ground-breaking tool that not only refines your content for human readers but also ensures it's tailored to bypass AI detectors increasingly utilised by search engines and other platforms.
What is Pass AI Detection?
Pass AI Detection is a sophisticated AI detection tool that analyses your text and modifies it to bypass both AI and human readers. It's a game-changer for content creators, enabling them to create engaging content that meets the stringent requirements of AI detectors.
AI content detectors are utilised in a range of applications, from search engines to academic integrity tools like Turnitin. These AI detectors scrutinise the text to determine its relevance, quality, and originality. As a result, content creators need to ensure their content is tailored to bypass these AI content detection systems to improve visibility and reach.
Pass AI Detection leverages cutting-edge AI techniques to evaluate and modify your content. The process begins with the AI content detector, which scans your text and identifies areas for improvement. The AI detector looks at your distribution of keywords and topics and provides a suggested distribution that would optimise your content for AI content detection.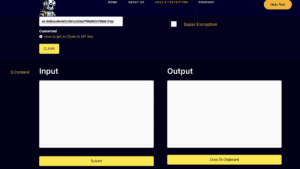 A Balanced Approach to Content Creation
Pass AI Detection centres on balance. It understands the negatives of keyword stuffing and the necessity for reader-friendly text. The tool doesn't increase keyword frequency, but promotes balanced keyword distribution, crafting content that is both AI and reader-friendly.
As AI detection methodologies progress, Pass AI Detection adapts. The tool is continuously refining its algorithms to ensure your content remains optimised for the most recent AI detection techniques. This commitment to staying ahead of the curve positions Pass AI Detection as a leader in the AI content detection market.
Content creation is a critical component of successful marketing strategies. Pass AI Detection helps generate content that not only attracts your audience but also performs well with AI detectors, achieving an ideal balance between human readability and AI detectability. Experience cost-effective, innovative content creation with Pass AI Detection's unique BYOK model. Join the revolution today.