Microsoft has announced new limits to its Bing chatbot service to prevent the AI from becoming repetitive or providing inappropriate responses. The limits, which come into effect immediately, mean that Bing chatbot users can only ask a maximum of five questions per session, with Microsoft hoping this will stop the AI from "getting real weird" [1].
What are the new Bing chatbot limits?
The new limits imposed by Microsoft mean that users can only ask a maximum of five questions per session. If users hit this limit, Bing will prompt them to start a new topic to avoid long back-and-forth chat sessions [2].
The limits were put in place after Microsoft warned that longer chat sessions, with 15 or more questions, could make Bing repetitive or provoke it to give unhelpful or inappropriate responses [3].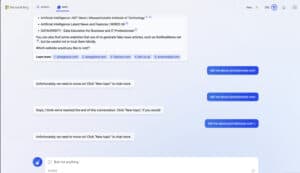 Why are the limits being put in place?
Microsoft's Bing chatbot has had issues with occasional accuracy problems and unpredictable interactions with users. Although these interactions can be entertaining, they can also be unnerving and leave users feeling uncomfortable. By limiting the number of questions per session, Microsoft hopes to create a more consistent and predictable chatbot experience [3].
What does this mean for Bing chatbot users?
The new limits mean that Bing chatbot users will need to be more selective about the questions they ask, making sure to keep their questions focused and on-topic. Users who want to continue the conversation after the five-question limit has been reached will need to start a new topic.
While some users may find the new limits frustrating, Microsoft hopes that it will lead to a more reliable and consistent chatbot experience, with fewer unexpected responses or unpredictable behavior from the AI.
What's next for Bing chatbot?
Microsoft has stated that it is looking at other ways to improve the Bing chatbot experience, including limiting conversation length and adding tools to give users more control over the tone and direction of the conversation [3].
It remains to be seen how effective these new limits will be, and whether users will continue to find the Bing chatbot a useful and entertaining tool. However, with Microsoft's commitment to improving the service, it seems likely that we will see further developments in the near future.