FEB 1 2022 | UPDATE: The new price of $20 per month has been announced stated by Masable. And it has been stated they will be rolling this out to US residents first, as a soft launch.
Jan 22 2022 | UPDATE: Since publishing this article, there have been reports that the paid options has now been removed with no mention as to why. We have reached out for comment, and are yet to receive a response.
Today, OpenAi the leading artificial intelligence company, has released a pricing plan for their innovative ChatGPT product. Customers now have two options to choose from: a free plan and an advanced plan that costs $42 per month. It currently appears that the option to upgrade is being slowly rolled out across the globe.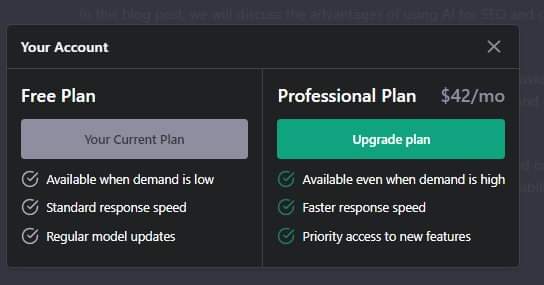 OpenAi's ChatGPT product is a revolutionary step forward in artificial intelligence. It has the potential to revolutionize the way people interact with technology and make AI more accessible to everyone.
The free plan will have a slower response time, and the user will not be guaranteed usage during peak times. This plan is great for those who are just getting started with AI and want to explore its capabilities.
The $42 per month plan is a great deal for those who need ChatGPT's services on a regular basis. Not only do users get faster response times, they also get priority access to the system when it is busy. Additionally, they get to be the first to try out any new features OpenAI may develop in the future.
OpenAi's pricing plan makes ChatGPT accessible to everyone, regardless of their budget. With the free plan, users can explore the possibilities of AI, while the advanced plan provides more control and flexibility. OpenAi is confident that this pricing plan will help make AI even more accessible and useful for everyone.